What Colors can Fibreglass Pools be?
Gone are the days when concrete was the only option for building swimming pools. Fibreglass has brought a revolution in swimming pool construction. Fibreglass pools are easier to install and maintain. They are available in numerous colors. But the availability of several colors also leads to confusion while choosing a swimming pool color. It is very easy to get it wrong. The swimming pool is a long term investment and you do not want to be stuck with a pool you regret building. Let us make your task easier. The following factors should be considered before deciding the pool color.
The intended use of your pool is an important factor while deciding the color. If you want to use your pool for recreation only then a light colored pool will be better. A light-toned pool can give you a serene feel. If your pool is meant to be a venue for pool parties, then a dark color and finish will add a vibrant look. Your swimming pool can either blend in with the rest of your house or stand out. If your intention is to make your swimming the focal point of your house then feel free to experiment with colors and finishes.
But if you want a laid back pool area then traditional light colors are best. Always remember that what is in vogue today may be outdated 5 years down the line. If children and senior citizens are going to be using the pool then light colors may be a better choice for the sake of safety and visibility. Dark colored pools can create an illusion about the depth of the pool.
2. The feel of your backyard
Your swimming will be an integral part of your backyard. If your backyard is meant to be a calm area then light colored pools are your best option. A dark colored pool will look good in a large backyard. Similarly, a light colored pool will give an open feel to a small backyard. But dark colored pools can also convey an illusion of depth. Your pool will look much deeper than it actually is. The theme of your backyard whether tropical or contemporary will also influence your choice of colors. Your swimming pool should compliment your backyard and your house. It should not end up being an eyesore.
If you have rustic themed landscaping your pool color should fit in with the theme. Light pool colors can give an elegant and contemporary feel to your backyard. Dark colored pools will go well with a tropical theme. Light toned pools can make your backyard a calming oasis while dark colors can give them a vibrant feel. Light colored pools give out a feeling of being on a beach.
There are plenty of variations available with the traditional colors so you can get a better look without opting for anything drastic.
Light colored pools will reflect light and if you live in warmer climates you would want to consider light colored pools. Your pool water will remain cooler. But you will also feel a glare in bright sunlight. You will have to use water-resistant spectacles for swimming on a sunny day.
If you live in colder climates then dark colored pools will keep your water warm. Dark pool colors tend to absorb sunlight. The result is the water temperature will increase by 2-3 degrees. It reduces your heating expenses and prolongs your swimming season. Light colored pools reflect the pool surface clearly. If your house is in a windy area then your pool will be more prone to dust and debris. In such cases, you will have to work very hard on cleaning your pool or look for a pool cover. Dark colored pools camouflage minor dust and debris very well.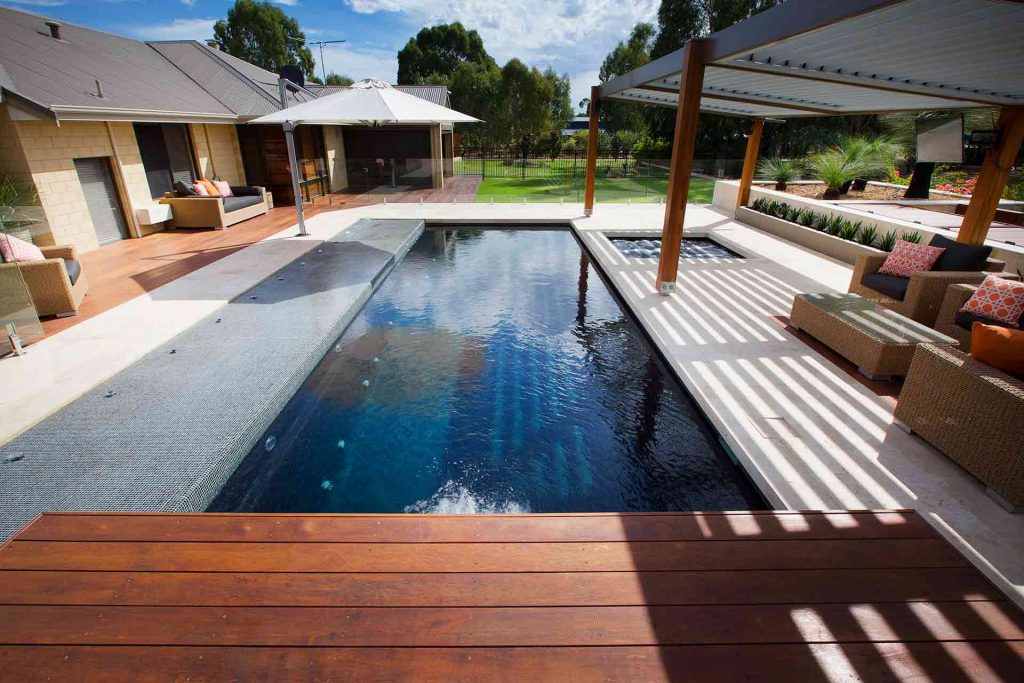 The darker color will make a smaller pool look even smaller. Light colors give an expansive look to the pool. You have more scope for experimentation if you are building a bigger sized pool.
Lighting can make or break your pool. Both natural and artificial light will have different effects on your pool. There are various types of LED lights which can give varied effects to your pool. You can go for underwater lighting or floodlighting. Plan your lighting beforehand. Discuss with your pool builder your lighting options and their impact on pool colors. Steps and ledges may not be easily visible in a dark colored pool. Dark colored pools need to be well lit for greater visibility and safety.
6. The design of your house
Your pool should be in line with the design and exterior color of your house. Light colored pools blend in with most house designs. Your pool color must blend in with your house, backyard and surroundings. Contrast is fine but a miss-matched backyard and pool color spell chaos. Imagine a house with a dark red brick exterior and dark pool and dark surroundings.
Light colored pools enhance any dust or debris lying on the surface of the pool. The pool will almost always appear dirty. You will have to be regular about your pool maintenance.
Dark colored pools hide debris, but they promote algae due to the warm temperature of the water. Warmer water becomes a fertile breeding ground for algae. But this problem can be solved with maintaining proper chlorine levels.
How to combine various pool colors with your surroundings?
Normally pool builders tend to combine dark colored pools with light colored surroundings and light colored pools with darker surroundings. It gives a contrasting effect.
Your lighter pool color can be combined with dark wooden decking, sandstone and dark slate. But remember that dark colored surroundings will absorb heat and it will be difficult to walk on them during the warmer days.
A darker colored pool is often paired with light granite, light wooden decking and light limestone.
There are various shades of fibreglass pools available in the market. What you see on the computer will be very different from the final result when the pool is filled with water. Lighting or lack of it also impacts the final effect. Blue is considered a safe color. There are various shade of blue available. Green is another color which is becoming popular. You may not be able to correctly estimate the impact of your pool color. Your surroundings, sunlight, lighting, shadows all these may impact the look of your pool. It is best if you can visit someone who has the same colored swimming pool in their backyard to gauge the impact of the color.
Some people have an aversion to dark colors. Be careful while opting for drastic colors like gray or black. If you are not careful about the landscape and lighting then dark colors can stick out like an eyesore. But if done well dark colors can make your pool a showstopper.
The latest technology gives you the option of many types of surfaces. Many manufacturers offer UV resistant and blister resistant surfaces. Your pool builder will give you all the options for pool colors depending on your backyard, choices, landscaping etc. Be careful to select a reputed manufacturer who will give you a long warranty on the surface of your fibreglass pool.